Do you have a favorite game or DVD that unfortunately has several scratches due to intensive use?
Don't worry, let your disc shine again for €3.50. We polish Games, Blu-ray & CD/DVD​.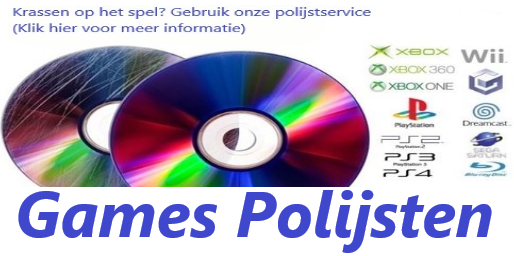 1 disc €3.50 each
10 discs €3.00 each
20 discs €2.50 each
Frequently asked Questions:
How do you work?
Our polishing machine polishes a thin layer of the disc, which in most cases makes the scratches disappear. Making it look like new again. We cannot guarantee that the disc will work again. We only guarantee that most or not all scratches will be removed.
Note: Unfortunately, deep scratches, which can be felt with your fingernail, cannot be removed from your disc. Also, the label side of a disc cannot be polished.
How can I indicate that I want to use this service?
Very simple,
Call - whatsapp or email us for an appointment to come by
If you are not able to come by, it is also possible to send it.
Payment must then be made in advance.
Link to the website:Games and DVD polishing
Our address :
2nd hand games
Edison road 2g
3208KB Spijkenisse
Which discs do you polish?
We polish all games from the Nintendo GameCube to PlayStation 4.
But also Blue-Ray, DVD & (music) CD.
How long does it take for the disc to be ready?
If you come by in person, in most cases it will be ready while you wait.
When shipped, you will have the disc(s) back within 3 days.
Who pays the shipping costs?
You pay the return costs in advance with your order, you pay the costs for sending it to us at the Post Office. A tip send multiple discs at the same time to save shipping costs.
For example, with 1 disc you pay as much in shipping costs as with 10 or 20 pieces. You can simply send it as a letterbox post. Only send the disc itself so without box and booklet
Prefer to send with a case?
No problem, we understand that
Other questions?
Feel free to contact us
- Email : info@2hg.nl
- tel: 0651064977 (available every day from 12:00 to 21:00)